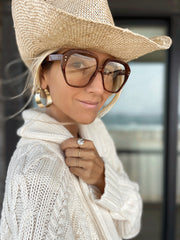 Jamie Israel
Founder of James Michelle
Oftentimes when exposed to an artist's work that is so concise, so unique, it's assumed the pieces were made easily. But anyone that has created beauty knows this notion to be untrue. Our most authentic expressions arise from the trials we venture through, and James Michelle Jewelry is no exception.
The mother of a newborn, a marriage in disarray, the loss of both parents, homelessness, and a brand new diagnosis: Lyme disease, James Michelle Jewelry was born from ashes. James worked tirelessly through her disease. On her bad days she would sketch and research. On her good days she would create with everything she had.
Making jewelry was her escape. She found that through hand stamping and forging metal, her imagination traveled to places close to her heart like the ocean and mountains. With each design, she envisioned her muse. A girl who danced with the waves, hiked to watch the sunset, and looked to the stars and moon for answers.
Today, Lyme disease is something she must live with but it will never dictate her existence. James continues to draw inspiration from her experiences and the people around her, and has a desire to spread her artwork worldwide, adorning the globe with her creations. Now, she is excited about the life she's built for herself and cannot wait to see the future that this adventure holds for her and James Michelle.